Ultimate Guide to Carpet Odour Removal In Canberra
Everyone loves stepping inside a house that smells fresh and amazing, right? No matter how well your home stays decked, persistent carpet odours can make even the most elegant living spaces embarrassing. So addressing the causes of carpet odours and implementing prevention strategies with the help of DIY remedies or professional service at the right time is essential to keep your house smelling at its best. To ease your problem, we have presented the ultimate guide to Carpet odour removal in Canberra.
Whether it's the pet smells or stale odours from dampness, addressing the issue with time will avoid aggravating the situation. So let's walk you through the guide for the ultimate upkeep of your carpet's freshness.
Causes of Carpet Odours
Various factors contribute to the cause of unpleasant odours in carpets. Some common reasons are :
Pet Accidents
When not cleaned properly, the urine and feces of pets can leave a lasting smell. Thus delay in the cleaning process can leave a long-lasting odour that gets difficult to remove later.
Dampness and Mould
Dampness caused due to the moisture trapped in carpets can result in the growth of mould and mildew. Their increase of them causes a musty smell all around your living space.
5 Fuss-Free Ways To Restore Flood-Damaged Carpets!
Food and Drink Spills
Sugary drinks and food particles spoilage can cause odours when not appropriately cleaned over time.
Poor Ventilation
Inadequate airflow can lead to a build-up of stale odours. As the flow of fresh air gets restricted.
Smoke
Cigarette and cigar smoke can leave a lingering smell on carpets that gets difficult to remove when delayed.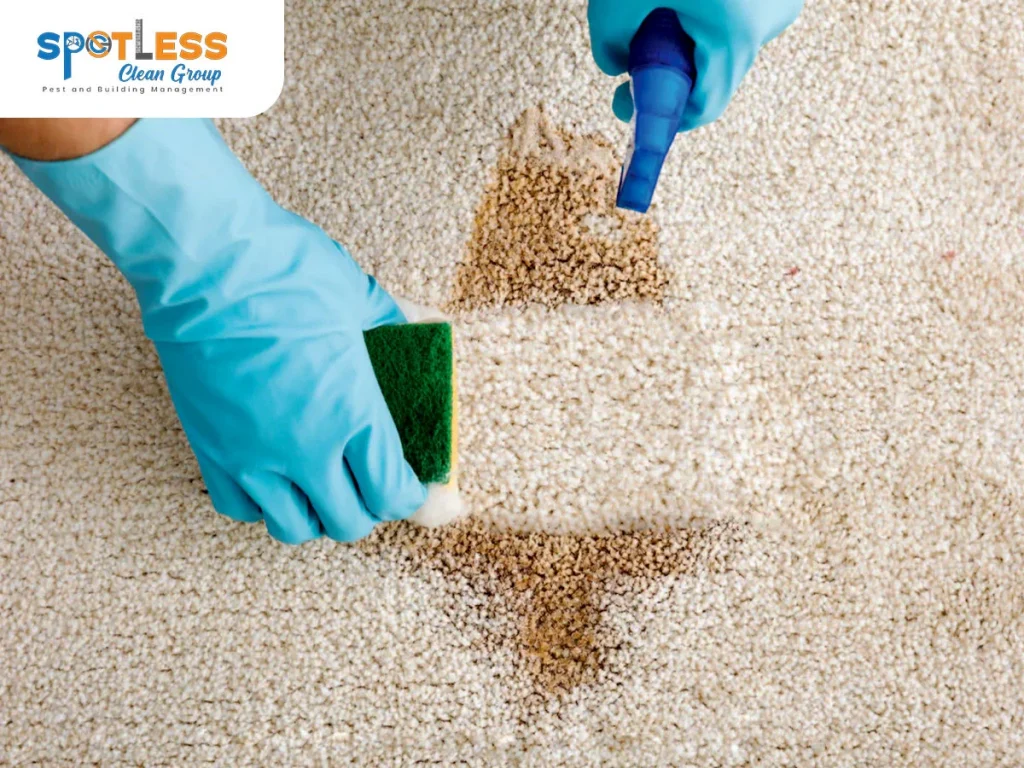 Best Prevention Strategies For Odour Removal In Canberra
Taking a few proactive measures at the early stage can help prevent carpet odours from developing in the first place and leave your place smelling fresh for a longer time:
Regular Vacuuming
This helps prevent the accumulation of dirt, dust, and debris contributing to odours. Getting rid of it in the early stages makes your house smell amazing all day long.
Clean Spills Without Delay
Spills, when not addressed, can cause stains and cause lingering odours. Act quickly and clean up the space using good quality cleaners or effective DIY home remedies to prevent staining and smells from setting in.
Maintain Proper Ventilation
Proper fresh air circulation is essential to drive away the staleness from your living space. Keep your house's windows and doors open at a particular time to encourage airflow.
Use A Dehumidifier
Moisture leads to dampness that leads to the growth of mould and mildew. To keep it away, use a humidifier, which reduces humidity and prevents mould growth.
Enforce A No-Smoking Policy
Keep your carpets smelling fresh by not encouraging smoking indoors.
Natural Remedies For Effective Odour Removal
Having discussed the causes of odour removal, now let me help you out with some natural remedies that can help eliminate carpet odours without resorting to harsh chemicals:
Baking Soda-

Sprinkle generously over the carpet, let it sit for a few hours, then vacuum.

White vinegar-

Take equal parts of vinegar with water, spray the solution on the carpet, and let it air dry.

Essential Oils:

You can use a

few drops of your favourite essential oil in a water-filled spray bottle, then spritz lightly over the carpet.
DIY Remedies
For any stubborn odours that don't seem to go using these natural remedies, we recommend you try these DIY solutions:
Carpet shampoo

– Use a store-bought or homemade carpet cleaner to remove dirt and odours. They work better to remove stubborn odours that don't seem to go.

Steam cleaning

– A steam cleaner works best to deep clean and deodorise your carpets for odours that don't seem to go.
Professional Help
Lastly comes getting help professionally. They help you get rid of unwanted odours promptly and effectively. When stubborn odours persist, it's time to call in the experts like Spotless Cleaning Services. We specialise in commercial and residential carpet cleaning, repairs, and odour removal. Our trained professionals use advanced equipment and eco-friendly products incorporating the expertise and skills to eliminate even the most stubborn smells, leaving your carpets fresh and fragrant.
The bottom line is that understanding the causes of carpet odours and implementing prevention strategies can help maintain a pleasant living environment. However, for getting thorough Carpet odour removal in Canberra with satisfactory results, hiring a professional service like Spotless Cleaning Services in Canberra is the best option to leave your house smelling amazing all year round.
Follow us on Facebook.