How Professional Cleaning Services Benefits A Workplace?
You might wonder how important a professional cleaning service can be for the workplace. Still, you will be amazed to know that cleanliness and hygiene are directly proportional to productivity and employee well-being. Maintaining a clean and healthy workplace is crucial in today's fast-paced business world.
While in-house cleaning does help to some extent, professional cleaning services are imperative as they offer a thorough and deep clean that ensures a hygienic, safe, and welcoming working environment. A clean working space keeps all your employees healthy, thus making them more productive. Here's a closer look at why investing why is an essential aspect of workplace management.
5 Reasons Why A Professional Cleaning Service Is Important For A Healthy Workspace?
Quality and Thoroughness
Professionals incorporate the necessary skills, experience, and high-end equipment to deliver a high level of cleanliness that can be challenging to achieve with in-house cleaning. Moreover, spotless cleaning with such promptness is only possible for cleaning experts. They are trained to clean every nook and corner. They are updated with the latest devices and technology, ensuring a thorough clean working procedure that removes dust, allergens, and harmful bacteria—leaving your workplace shiny and fresh.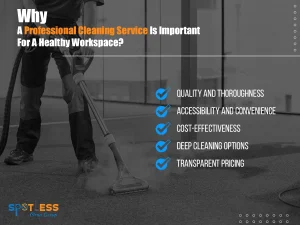 Accessibility and Convenience
Gone are the days when finding professional cleaning services near you was quite a hassle as it was very baffling to choose a professional service company that you could rely on. But, thanks to the advancement of the internet. You can now quickly locate reputable cleaning services in your area, check their reviews, compare them and then book an appointment at your convenience. Reputed, trustworthy professional cleaning services always offer flexible schedules, including after-hours cleaning, to minimize disruption to your business operations.
Cost-Effectiveness
The average cost of professional cleaning services can vary based on the size of your workplace, the type of cleaning required, and the frequency of cleaning. Initially, it may seem like an additional expense, but investing in professional cleaning can bring the needed transformation in your workplace, attracting better business prospects due to the professionalism it will exude.
A clean and healthy ambience at work will help reduce employee sick days, increase productivity, and prolong the lifespan of your office equipment and furniture. So you see, with one single investment, you benefit in multiple ways.
Went through a hectic week? Here are the reasons why you should opt for a professional cleaning company to be your saviour
Deep Cleaning Options
Regular cleaning might only sometimes be enough to ensure a thoroughly clean environment, especially in high-traffic areas or workplaces like healthcare facilities. In such cases, getting help from a professional deep cleaning service is imperative to clean your entire space in a single go with minute attention to detail. A professional deep clean may cost more than a regular clean. Still, it involves detailed cleaning, disinfection, and sometimes even restoration services you can never expect from in-house cleaning.
Transparent Pricing
A standard professional cleaning company will always be upfront to provide transparent pricing structures, allowing you to budget for cleaning services accurately. The cleaning services vary widely on several factors, including the nature of cleaning tasks, the frequency of service, and the square footage of your office. Most reputable cleaning services like Spotless Cleaning will provide a detailed quote or estimate upfront. We ensure you with no hidden costs or surprises that might cause inconveniences in the later stage.
The bottom line is that professional cleaning companies are crucial in maintaining a healthy and productive workplace. They provide a thorough and deep clean that not only ensures a visually appealing environment but also contributes to the overall well-being of your employees. As we have explained in the above points, easy accessibility, cost-effectiveness, deep cleaning options, and transparent pricing, it is an investment worth considering for every business that dreams to flourish and grow.
For any queries regarding professional cleaning services, contact us and let us assist you with any information you require!